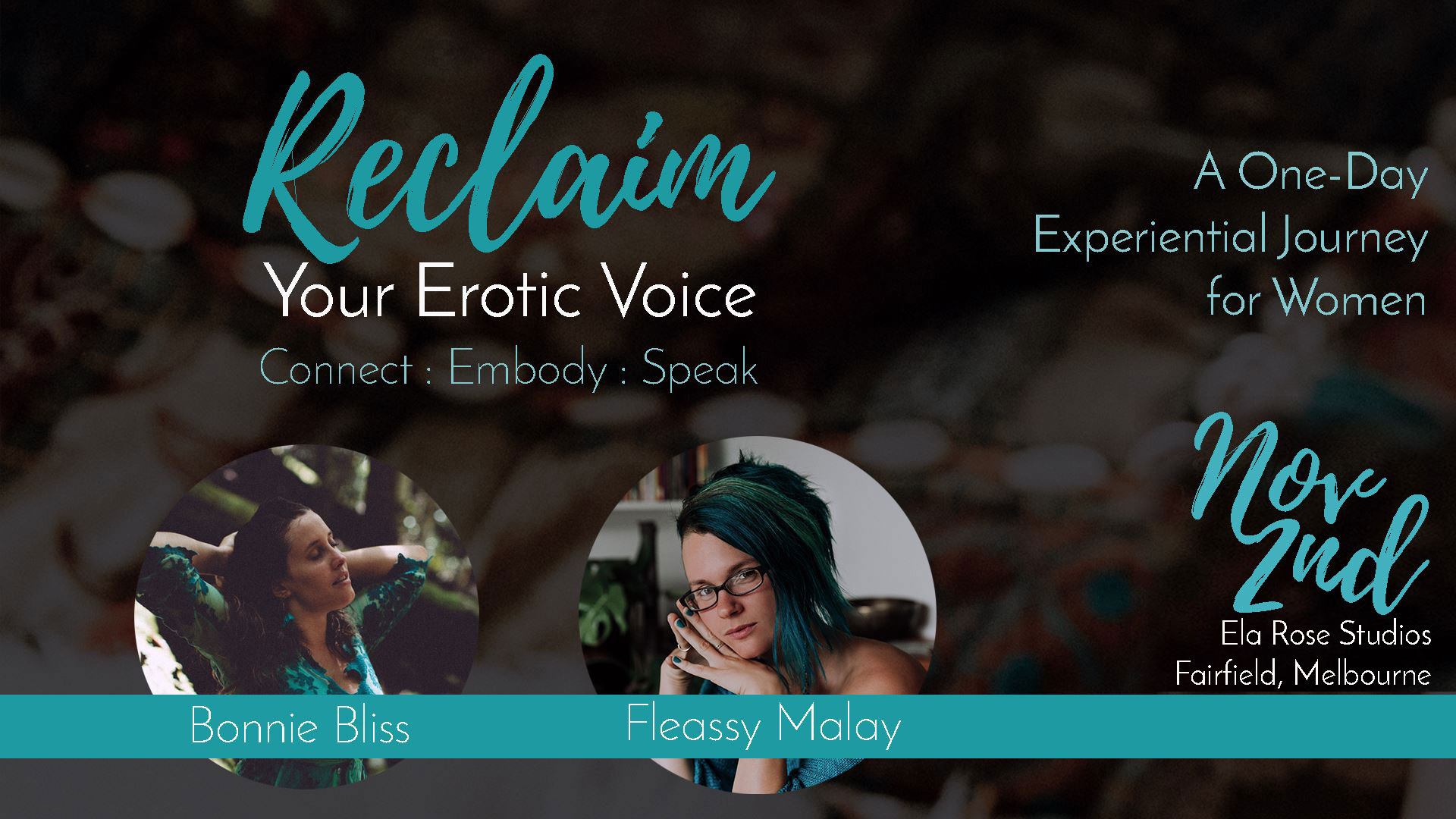 Do you hunger to be more in touch with your erotic self?
Would you like to feel expansive aliveness in your hips and pelvis?
Do you hesitate to speak your truth, desires and sensuality?
A juicy collaboration between internationally renowned poet & speaking coach, Fleassy Malay, and women's pelvic wellness specialist and sex educator, Bonnie Bliss.
In this one day experiential journey for women, Fleassy and Bonnie will guide you deep into your body to find your authentic erotic voice.
Using embodiment processes, self-reflection, writing and courageous speaking techniques, we'll explore how we relate to our sexual selves, drop deeper into our embodiment of our sensual nature and share the voice of our unique erotic self
Are you ready to reclaim your erotic voice?
Then join us for this incredible full-day, immersive workshop.
This is for you if…
* You are a woman who hungers to connect deeper with her erotic nature and pelvic power, or you feel you have lost connection to this side of your self.
* You are a (closet or established) poet or writer who wants to step forward and explore erotic writing.
* You love getting juicy with bodies and words.
This will be a day dripping with pleasure, creativity and new horizons.
"I was so moved by this incredible workshop … a deep sensual journey into my sacred sexual wilderness"
What to Expect
We'll be exploring a combination of…..
Bonnies work empowering women through pelvic embodiment and pleasure practices and Fleassy's processes of empowered speaking and erotic writing.
We will be…
Experiencing practical exercises to drop you into your bodies, and access your words.

Writing

Sharing and witnessing each other in our erotic nature

Speaking our desires and hungers.

Taking space for deep reflection and fierce-gentle embodiment.

Exploring movement, sound and words.
You will be leaving with…
A richer connection to your sensual self.
A collection of erotic and sensual writing.
A sense of aliveness and juiciness in your hips and pelvis with tools to reawaken it whenever you feel.
A new community of women all ready to be their fullest selves.
A deeper understanding of how to speak your desires, and claim your voice and body in a way that is true and authentic to you.
Upcoming Course Details
Saturday, November 2, 2019 at 9 AM – 4:30 PM.
Venue: Ela Rose Studio's, Fairfield.
We expect this to sell out quickly and we have limited places, so do jump in soon if you'd like to join us.
Earlybird price is $195 until Oct 19th.
Full price after Oct 19th is $249.
What to bring…
*Wear comfortable clothes for moving in
*Layers for warmth
* A water bottle
* A pen
We Acknowledge…
This workshop is happening on ancient land and we pay our respects to the traditional custodians, the people of the Kulin Nation, past, present and emerging. This land always was and always will be Aboriginal land.
More questions?…
FAQS…



WHAT IS YOUR INCLUSIVITY POLICY?
We welcome anyone who identifies as a woman and non-binary/gender fluid folk.
At times we'll use languaging around the female anatomy and reproductive system. If this is sensitive for you, it may not be the event for you. Bonnie's work generally focuses on these areas however, please consider Fleassy's other events which may be more suitable for you.
Our languaging will not be heteronormative, and all sexual orientations are welcome.
Unfortunately, the venue isn't fully wheelchair accessible (though they are currently adjusting the venue to meet accessibility standards). There are no stairs to access this venue, toilets and workshop space are all on one level.
If you have accessibility requirements and are unsure if this workshop is suitable for you, please email us.
I'M NERVOUS ABOUT SPEAKING IN FRONT OF OTHER PEOPLE. IS THIS EVENT FOR ME?



Yes, this space is perfect for you. This event isn't about getting on stage, it's about speaking your truth and being yourself. You'll be guided and supported in that process.

WILL WE BE NAKED?



This is a fully clothed event. We'll do some pelvic movement and self touch practice but there won't be any sexual touch between people.

WILL I HAVE TO PARTICIPATE IN EVERYTHING?



No, all exercises are optional, but nothing will be super intense. We encourage you to let us know if you're needing to sit something out to take care of yourself.

I HAVE SOME SEXUAL TRAUMA, IS THIS FOR ME?



If you are in an ACTIVE state of trauma, this event may not be for you… as we are exploring how we relate to sexuality. In this case, we encourage you to seek the support of a qualified trauma therapist or Somatic Experiencing practitioner. If you have past sexual trauma that is not currently impacting your day to day functioning, you are welcome in this space. Bonnie's sexuality-related facilitation is trauma-informed and none of the practices will be forceful. Everything is optional.